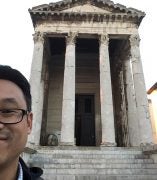 Young Richard Kim, PhD
Associate Professor; Head; and Director of Undergraduate Studies
Associate Professor of History
Classics and Mediterranean Studies
Pronouns: He/Him/His
About
Young Kim is associate professor and head of Classics and Mediterranean Studies, with an additional appointment in the Department of History. He is a scholar and teacher of the ancient Mediterranean world, with wide interests and specific expertise in Late Antiquity, Late Ancient Christianity, and Early Byzantine Studies.
Prior to joining UIC, Dr. Kim worked as Director of Educational Programs for the Onassis Foundation USA and as associate professor at Calvin College. He is the author of Epiphanius of Cyprus: Imagining an Orthodox World, winner of the 2016 North American Patristics Society Best First Book Prize, and the editor of the Cambridge Companion to the Council of Nicaea. Dr. Kim's current research project is on Cyprus in Late Antiquity.
Dr. Kim earned his M.A. and Ph.D. from the University of Michigan (2004, 2006) and his B.A. from UCLA (1999).
Selected Publications
Cambridge Companion to the Council of Nicaea, edited by Young Richard Kim. Cambridge Companions to Religion. Cambridge: Cambridge University Press, 2021.
Leadership and Community in Late Antiquity: Essays in Honour of Raymond Van Dam. edited by Y. R. Kim and A. E. T. McLaughlin. Cultural Encounters in Late Antiquity and the Middle Ages 26. Turnhout: Brepols, 2020.
"Cypriot Autocephaly, Reconsidered." In From Roman to Early Christian Cyprus: Studies in Religion and Archaeology, edited by Laura Nasrallah, Charalambos Bakirtzis, and AnneMarie Luijendijk, 153-67. Wissenschaftliche Untersuchungen zum Neuen Testament 437. Tübingen: Mohr Siebeck, 2020.
"The Little Island That Could: Cyprus in the Fifth Century." In The Fifth Century: Age of Transformation. Proceedings of the 12th Biennial Shifting Frontiers in Late Antiquity Conference, edited by Jan Willem Drijvers and Noel Lenski, 121-34. Munera 46. Bari: Edipuglia, 2019.
"An Iconic Odd Couple: The Hagiographic Rehabilitation of Epiphanius and John Chrysostom." Church History 87 (2018): 981-1002.
"Nicaea Is Not Enough: The Second Creed of Epiphanius' Ancoratus." Studia Patristica 96 (2017): 11-20.
"The Transformation of Heresiology in the Panarion of Epiphanius of Cyprus." In Shifting Genres in Late Antiquity, edited by Geoffrey Greatrex and Hugh Elton, 53-65. Burlington, VT: Ashgate, 2015.
St. Epiphanius of Cyprus: Ancoratus. Fathers of the Church 128. Washington, DC: Catholic University of America Press, 2014.
"Jerome and Paulinian, Brothers." Vigiliae Christianae 67 (2013): 517-30.
"Epiphanius of Cyprus vs. John of Jerusalem: An Improper Ordination and the Escalation of the Origenist Controversy." In Episcopal Elections in Late Antiquity, Arbeiten zur Kirchengeschichte 119, edited by Johan Leemans et al., 411-22. Berlin: De Gruyter, 2011.
"Reading the Panarion as Collective Biography: The Heresiarch as Unholy Man." Vigiliae Christianae 64 (2010): 382-413.