Courses
This is an unofficial list of courses that will be offered in Classics and Mediterranean Studies in Spring 2024. It is strictly for the use of expanded course descriptions. For the complete official course offerings, please consult the My.UIC portal.
For a list of all courses and general course descriptions, please see the UIC Academic Catalog.
Spring 2024 Courses in Art and Archaeology, Culture, and Literature (all taught in English) Heading link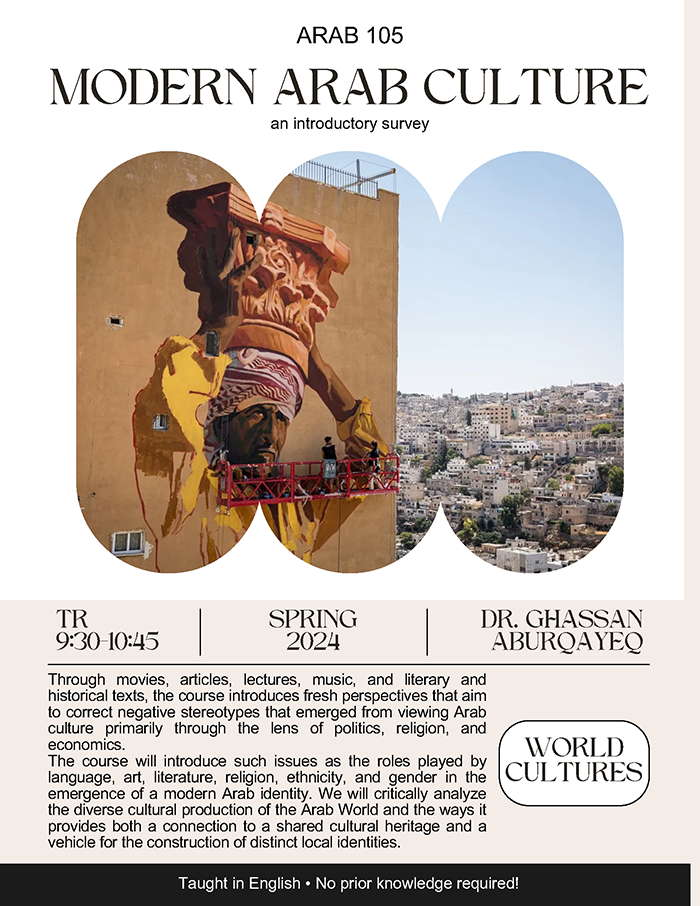 ARAB 105 Modern Arab Culture. TR 9:30-10:45. Meet on campus. Aburqayeq.
ARAB 105 is an introductory survey of Modern Arab culture. Through movies, articles, lectures, music, and literary and historical texts, the course introduces fresh perspectives that aim to correct negative stereotypes that emerged from viewing Arab culture primarily through the lens of politics, religion, and economics.
The course will introduce such issues as the roles played by language, art, literature, religion, ethnicity, and gender in the emergence of a modern Arab identity. We will critically analyze the diverse cultural production of the Arab World and the ways it provides both a connection to a shared cultural heritage and a vehicle for the construction of distinct local identities. Taught in English.
World Cultures
download printable flyer

CL 103 Introduction to Classical and Mediterranean Archaeology. MWF 2:00-2:50. Meet on campus. Ros.
Discover the ancient civilizations of Egypt, the Near East, Greece, and Rome. This course examines the architecture, sculpture, and painting of these civilizations in their cultural and historical context. Topics covered range from momentous (the invention of writing), to fascinating (Hatshepsut, the cross-dressing female pharaoh), to downright odd (bull leaping as a religious ritual).
Creative Arts, and Past course.
CL 203/HIST 203 Ancient Rome. TR 2:00-3:15. On campus and online.  Papakonstaninou.
This course follows the development of Rome from a small village in central Italy to the longest-lived empire of the ancient world with particular emphasis on political, social and cultural developments as well as the interaction of Rome with other cultures. Lectures containing a historical narrative of the main political and military events will be interspersed with thematic lectures on key aspects of Roman society and culture. Students will be introduced to the study of select Roman sources in translation, provided by the instructor.
Past, and World Cultures course.
CL 205/AH 205/HIST 205 Roman Art and Archaeology. MWF 1:00-1:50. Meet on campus. Ros.
Experience 'the grandeur of Rome' through its architecture, sculpture, wall painting and mosaics. Course topics include the town of Pompeii, buried alive by the eruption of Mt. Vesuvius and miraculously preserved; Rome's huge public bath complexes, the health clubs of the ancient world; luxurious private houses like the Villa of the Mysteries, whose painted walls reveal details of secret initiation ceremonies into the cult of the wine god Dionysus; the Colosseum, where gladiators and wild beasts fought to the death; and Roman imperial portraits and state reliefs, whose style and content were cleverly manipulated by the imperial propaganda machine to insure the continuing popularity of the reigning emperor. This course is a survey of Roman art and architecture in their historical and cultural context, from pre-Roman civilizations in Italy (the Villanovans, Etruscans, and western Greeks), through the reign of the Roman Emperor Constantine in the early 4th c CE.
Creative Arts, and Past course.
CL 218/HIST 218/AH 218 Pompeii: Everyday Life in a Roman Town.  MWF 12:00-12:50. Meet on campus.  Ros.
The town of Pompeii, buried and miraculously preserved by the sudden eruption of Mt. Vesuvius in 79 CE, offers a unique opportunity for an in-depth exploration of everyday life in a Roman town. Topics covered by this course include Pompeii's history, society, politics, economy, religion, art, architecture, and entertainments, both public and private.
Prerequisite(s): CL 101 or CL 103 or CL 205 or AH 110 or consent of the instructor.
Past course
CL 219/HIST 219 Sport in the Ancient World.  TR 3:30-4:45. On campus. Papakonstantinou.
This course provides an in-depth examination of sport in the Greco-Roman world. Lectures and discussions will follow a chronological and thematic sequence. Emphasis will lie equally on both the development of formal aspects of sport (e.g., techniques and rules of individual events; training; prizes; historical development of the Olympics and other international and local games) as well as its social and political ramifications. Moreover, the course will provide an introduction to the written and material evidence germane to the reconstruction of the history of sport in the ancient world and will survey the impact on Greco-Roman sport on the modern Olympic and sports movements.
Prerequisite(s): Any course in Classics or History. Recommended background: CL 100; CL 101; CL 103; CL 202 or HIST 202; CL 203 or HIST 203; CL 204 or HIST or AH 204; or CL 205 or HIST 205 or AH 205.
CL/PHIL 221 Ancient Philosophy II: Aristotle and His Successors. TR 11:00-12:15. Small
CL/RELS/JST 225 Topics in Muslim-Jewish Relations. TR 9:30-10:45. Doolin.
This course will examine various cross-cultural interactions occurring in the Medieval Muslim and Jewish worlds, with a specific focus on intellectual exchanges and influences within this period. Throughout the semester, we will embark upon a close reading of primary and secondary texts discussing central issues of philosophy, theology and mysticism in medieval Judaism and Islam. No previous background is required for this course.
CL/RELS/HIST 232 The Religious World of the Earliest Christians. TR 3:30-4:45. Dingeldein.
This course explores the religious world of the earliest Christians, focusing on the ways in which early Christian ideas and practices arose out of the cultures, religions, and philosophies of the ancient Mediterranean basin. In particular, we will critically compare early Christian ideas and practices regarding miracle workers, the afterlife, morality, and group organization with ancient Mediterranean ideas and practices regarding these same things
Past course.
CL 340 The Trojan War. TR 9:30-10:45. Meets on campus. Burns.
This class will study the myth of the Trojan War in literature and art. It will start with a close reading of the Iliad, the oldest surviving version of the Troy tale, that considers its themes of the nature of war and the worth of human life. Then the class will explore later adaptations of the Iliad and its themes in theater, poetry, art, and film. All readings are in English.
CL 398 Advanced Topics in Classical Civilization.  Arranged.  Kim.
CL 408/HIST 408 Athens and Aristophanes.  M 3:00-5:00.  On campus. Kimg.
Athenian democracy, especially in its most radical form, was a grand experiment in shared governance, and some might say, ultimately a spectacular failure. Aristophanes is our most direct witness to its practice, but because he was a comedic playwright, we are left with the difficult task of discerning fact from fantasy, reality from satire. We are fortunate to have other testimonies—from historians, philosophers, inscriptions, and (cranky) participants—which, together with the comedies of Aristophanes, will serve as our guides into the world of the fifth-century BCE Athenians and the development of their political practices. We will also explore the paradoxes between their democratic ideals and their imperialism and martial aggression. Finally, we will think critically about how the voices of the ancient past echo in our present.
No prerequisites. Recommended background: one of the following courses: CL 202, CL 251, CL 252, CL 405 or HIST 405.
Arabic
ARAB 102 Elementary Arabic II. MTWR 9:00-9:50. Alyassir. On campus.
ARAB 102 Elementary Arabic II. MTWR 11:00-11:50. Babiker. On campus.
ARAB 102 Elementary Arabic II. MTWR 12:00-12:50. Aburqayeq. On campus.
ARAB 104 Intermediate Arabic II. MTWR 10:00-10:50. Babiker. On campus.
ARAB 104 Intermediate Arabic II. MTWR 11:00-11:50. Alyassir. On campus.
ARAB 104 Intermediate Arabic II. MTWR 12:00-12:50. Alyassir. On campus.
ARAB 104 Intermediate Arabic II. MTWR 1:00-1:50. Aburqayeq. On campus.
ARAB 203. Arabic for Healthcare Professions and Sciences.  TR 12:30-1:45. Babiker. On campus.
Modern Greek
Note: GKM 102 and 104 sections will meet synchronously online TR and require additional asynchronous online work outside of class.
GKM 102 Elementary Modern Greek II. TR 10:00-10:50. Synchronous online.
GKM 104 Intermediate Modern Greek II. TR 11:00-11:50. Synchronous online.
Latin
LAT 102 Elementary Latin II.  MTWR 11:00-11:50. Meet on campus.  Burns.
LAT 104 Intermediate Latin II. MTWR 1:00-1:50. Meet on campus. Burns.