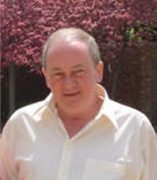 Allan Kershaw, PhD
Clinical Associate Professor (In Memoriam)
About
Areas of Research and Publication:
Latin Poetry and Latin Textual Criticism
Courses taught:
Beginners' Latin I (LAT 101)
Beginners' Latin II (LAT 102)
Intermediate Latin I (LAT 103)
Intermediate Latin II (LAT 104)
Roman Civilisation (CL 101)
Introduction to Classical Literature (CL 102)
Classical Etymology in the Life Sciences / Medical Terminology (CL 201)
Gender and Sexual Orientation in Classical Literature (CL 211)
Selected Publications
"Propertius 4.5.19-20," Latomus 57 (1998), 105-108
"Exclamatory Particles in the Tristia," in Ovid Werk und Wirkung: Festgabe für Michael von Albrechet zum 65 Geburstag, ed. W. Schubert, Peter Lang (1998) 775-85
Review of M. Billerbeck's edition with translation and commentary of Seneca's Herculens Furens in the Journal of Roman Studies 91 (2001), 249-50
Allan Kershaw and Jeffrey Gore, "An Unnoticed Acrostic in Apuleieus Metamorphoses and Cicero de Divinatione 2. 111-12" CQ 58 (2008) 393-94.
Notable Honors
2008-2011, Fellow, UIC Honors College
Education
BA, Leeds
MA, Leeds
MA, UC St. Barbara
PhD, Univ. of Texas at Austin
Research Currently in Progress
Notes on Virgil, Ovid, and Apuleius