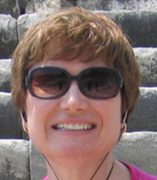 Karen Ros, PhD
Lecturer
Classics and Mediterranean Studies
Contact
Address:
601 S. Morgan St.
Office Phone Voice:
Email:
About
Courses recently taught:
Greek Civilization (CL 100)
Roman Civilization (CL 101)
Introduction to Classical Literature (CL 102)
Introduction to Classical and Mediterranean Archaeology (CL 103)
Greek Art and Archaeology (CL 204)
Roman Art and Archaeology (CL 205)
Greek Tragedy (CL 251)
Advanced Topics in Classical Civilization: Writing in the Discipline (CL 398)
Selected Publications
"The Roman Theater at Carthage," American Journal of Archaeology 100 (1996) 449-489.
"Vitruvius and the Design of the Carthage Theater," L'Africa romana: Atti del XI Convegno di studi, Carthagine, 15-18 dicembre 1994, ed. Attilo Mastino (Sassari 1996) 897-910.
"The Roman Theater at Carthage: Reconstruction and Dating," CEDAC Carthage 14 (1994) 26-32.
With Joann Freed, "Tunisian Amphoras of the Fourth Century AD Built into the Roman Theater at Carthage," CEDAC Carthage 11 (1990) 19-23.
Education
AB, Bryn Mawr College
MA, University of Michigan
PhD, University of Michigan